General Dentistry
At Smile City, we offer effective general dentistry services to our community in Brant County. We encourage residents to come in for regular check-ups, exams, and maintain good home oral health habits. When you visit us, we will carefully evaluate your entire mouth, take digital x-rays, complete a periodontal exam, and our qualified our hygienists will clean your teeth. Our professional dentists offer personalised service and will discuss each individual's priorities with them and develop a custom plan to help anyone achieve the smile you desire.
Our office can provide a wide array of professional general dentistry services. We typically provide every service without having to refer you to another specialist. This will save you time while keeping your dental health care needs under one roof. We emphasize providing total oral health care for our patients. When you find a problem with one of your teeth, or if you are suffering from gum problems – we can help. We offer a variety of general dentistry services to our community including implants, root canals, teeth cleaning, fillings, and more.
Smile City is one of the region's friendliest family dental practices and we strive to make you and your family as comfortable as possible. Our patients visit our office from all over the Brant County region including Brantford, Ayr, Woodstock, Burford, Princeton, Drumbo, Cambridge, and beyond. Our dental staff has years of experience treating the community with a variety of problems. We understand how painful a toothache can be and we know how bothersome mouth issues are. The longer dental health problems linger, the more difficult and costly it can become to treat them. We have many available services and are confident that we can treat almost any problem you have.
Call Smile City today at Toll-Free 1 (844) 442-4452 to discover the potential of your smile!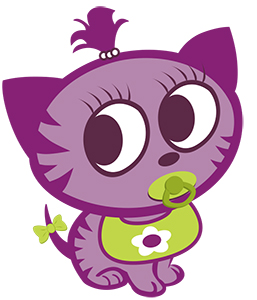 bOHP (Baby Oral Health Program)
When should I book my child's first dental appointment?
Visit us within 6 months of the first tooth showing, before his or her first birthday! As a parent it's up to you to help your children develop good habits.
Establishing an oral health routine early on means your child will understand just how important their dental health is. Smile City makes it easy and fun!
Baby teeth play a vital role when your child is learning how to speak and chew. They also protect the space their adult teeth will emerge into, so looking after baby teeth is the easiest way to ensure a healthy smile later in life. Your first dental visit is just as important as your Well Baby Exam! Preventative care can mean a lifetime of great oral health.
What happens during my appointment?
The first visit is about getting to know your child. We'll do a simple assessment and discuss:
Current dental habits
Relevant medical history
Family dental history
Feeding practices
Cavity risks
Injury prevention